Next Meeting:
Monthly Meeting - Thursday, September 5, 2019- 1:30 p.m. - Palm Beach County Robert Weisman Governmental Center - 6th floor BCC Chambers
Agenda and Attachments
Click here to watch the meeting live
Advisory Opinions
Training & Education
Databases
Codes
Publications
About Us
FAQs

View the most recent meeting and much more on the Meetings page.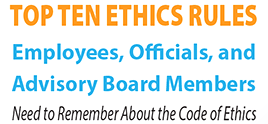 Advisory Opinions
Article V. Division 8. Sec. 2-260.9 of the Palm Beach Commission on Ethics Ordinance provides that employees, officials, lobbyists and vendors within the jurisdiction of the commission, when in doubt about the applicability or interpretation of the ethics codes and ordinances to himself or herself in a particular instance, may submit the facts of the situation to the COE with a request for an advisory opinion to advise them of the standard of duty, if any, that applies to their situation.  All opinions will be posted to this website following each meeting.